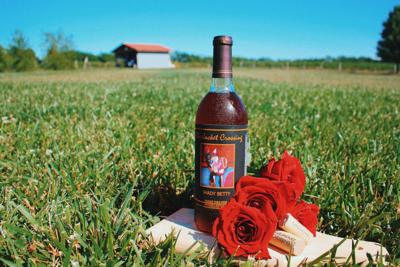 BlueJacket Crossing
Courtesy of Melody Stratton
When people typically think of what dominates Kansas agriculture, the first things that come to mind are probably a lot of wheat, cornfields and cattle. There's a misconception that Kansas farmland is flat, boring and not much to look at. But if you explore and dig a little deeper, you'll find an unsuspecting hidden gem: wineries.
Not a lot of people know this (and I sure didn't), but Kansas has a long history of grape-growing and winemaking. In 1901, Kansas had almost 5,000 acres of vineyards despite the prohibition, according to Philip Bradley of the Kansas Viticulture and Farm Winery Association. Vineyards eventually declined, and it wasn't until 1985 that Kansas legally allowed wineries to be established.
Since then, wineries are making a strong comeback in Kansas and fortunately, they're not going to stop anytime soon. The Kansas Office of Tourism & Travel reported nearly 50 current wineries in the state.
And it's no secret that college students love to drink, especially in LFK, our notorious party town.
Take it from Lilimay Bangoy, a University graduate from Los Angeles, who is an avid wine drinker and plans on visiting a few Kansas wineries. "Wine is like a mature drink but also a casual drink. You can just have a glass of it and be fine," Bangoy says. "You just need a glass to relax. You don't have to pound shots."
So, if you're looking to spice up your alcohol intake and be a little classy, put the cheap beer and nasty hard liquor aside and try wine instead. Chances are you won't wake up with a horrible hangover with the bitter aftertaste of vomit in your mouth.
We visited a couple wineries near Lawrence to talk about good wine with some experts. And it definitely didn't hurt that we got to sample delicious Kansas-grown wines, too. But how to choose a wine?
Gregory Shipe, owner of Davenport Orchards & Winery in Eudora, says it just depends. "Everybody has a different taste, so it's whatever you like. Some days, you like something different." So, I asked him which ones he would recommend to a wine newbie like me, and this is what we came up with:
1. Bluesman, $16
Most new wine drinkers will like the Bluesman, Shipe says. It's a dry red wine from Norton grapes, but is the only wine made in a different barrel. While everything else is made in a toasted barrel, the Bluesman is made in a charred barrel, which gives its a distinct smoky flavor. "The charred barrel makes it smoother too and less complex," Shipe says.  
2. Boujy Noveaulo, $12
The Boujy Noveaulo is dry red wine also made from Norton grapes, but it tastes completely different. It's more tart and fruity — Shipe says this is because the process to make it is different. They put whole clusters of grapes in a tank with the stems. Then they pump carbon monoxide into it until the oxygen is forced and sealed up, Shipe says. It's made in about 30 days and in France, it's a wine to celebrate the harvest.
3. Charlotte's Red, $12