financial content financialcontent.com stock quote stock quotes stock charts
By: Cavitation Technologies, Inc. via GlobeNewswire News Releases
May 03, 2018 at 10:00 AM EDT
Cavitation Technologies, Inc.'s newly developed appliance is bound for changing the entire $232.2 billion dollar alcoholic beverage industry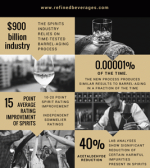 Would you drink your vodka straight without a fear of feeling tired next morning?


LOS ANGELES, May 03, 2018 (GLOBE NEWSWIRE) -- via OTC PR WIRE--Cavitation Technologies, Inc. (OTCQB:CVAT) (BERLIN:WTC) announces the development of an appliance that greatly enhances taste in spirits and wine while reducing harmful impurities attributed to hangovers.
Cavitation Technologies, Inc., a nanotechnology company, applied their patented fluid-processing technology to create an innovative home appliance that enhances spirits. The core principal behind the process is restructuring of the molecular composition of spirits and wine, thereby improving the taste without the need of filters or chemical reagents. During the process, certain harmful impurities that are linked to hangovers are converted into benign molecules. Consumers are expected to feel mitigated hangover effects linked to a significant reduction of harmful impurities typically present in spirits as byproducts of the distillation processes.
The new appliance will cater to a wide range of consumers, with connoisseurs and bargain-hunters alike taking interest in the appliance's benefits, as well as optimal spirit pricing. Spirit and wine aficionados with a sophisticated palette will be able to enhance any spirit or wine of their choice, whether it is vodka, tequila, cognac, or red wine. The appeal is in amplifying the enhanced tasting qualities of consumers' favorite spirit or wine within minutes, all the while making the drinks cleaner for the body. On the other hand, those looking for a bargain pricing on premium spirits will be able to take advantage of the razor and blade business model built around the appliance. Exclusively, owners of the appliance will be able to purchase a line of premium spirits at a deeply discounted rate without paying a premium for the label.
This marks the first time a razor and blade business model is entering the spirits industry. Beverage industry giants SodaStream and Keurig are both companies that implemented a razor and blade business model. The popularity of their products led to Keurig being acquired for $13.9 billion in December 2015, and SodaStream currently trading at a five year high. Cavitation Technologies, Inc. is filling the vacant opportunity of a rapidly successful business model within the spirits industry by providing consumers a technologically unique product paired with premium spirits at lower price points.
At investment symposium LD Micro Virtual Conference 2018, Cavitation Technologies, Inc. announced engagement in joint venture opportunities for marketing, sales, and distribution. The announcement is the first step for establishing brands and labels followed by a strategic marketing campaign. 
Cavitation Technologies, Inc.'s website with details of the alcohol improvement process is https://www.refinedbeverages.com/.
Detailed stock information for (CVAT) is available at cvatinfo.com.
Safe Harbor
This release contains forward-looking statements within the meaning of the Private Securities Litigation Reform Act of 1995. In some cases forward-looking statements can be identified by terminology such as "may," "should," "potential," "continue," "expects," "anticipates," "intends," "plans," "believes," "estimates," and similar expressions, and include statements regarding the installation being expected in the Company's fiscal fourth quarter of 2018, the Company anticipating receiving $130,000 in the aggregate from the Desmet Ballestra order, India's edible oil sector being expected to be the fastest growing sub-sector of its global agriculture market and the anticipated increased demand for the Nano Reactor systems in India. These forward-looking statements are based largely on the Company's expectations and are subject to a number of risks and uncertainties, certain of which are beyond the Company's control. Actual results could differ materially from these forward looking statements as a result of a variety of factors including, among others, our ability to perform the installation as anticipated, the ability of edible oil sector in India to continue to grow, our ability to increase the demand for the Nano Reactor systems in India, the state of the economy, the competitive environment and other factors described in our most recent Form 10-K and our other filings with the SEC, including subsequent periodic reports on Forms 10-Q and 8-K. In light of these risks and uncertainties there can be no assurances that the forward looking statements contained in this press release will in fact transpire or prove to be accurate. The information in this release is provided only as of the date of this release, and we undertake no obligation to update any forward-looking statements contained in this release on account of new information, future events, or otherwise, except as required by law.
Contact:
Investor Relations 
IR@ctinanotech.com

Phone (818) 718-0905 
A photo accompanying this announcement is available at
,
wine
,
fuli