travel party will time Capricon
Dublin 2019 chair James Bacon and scarf.
By James Bacon: The party scene is big part of Capricon.
Although I first encountered parties at Worldcon in 1995, the idea of a 1,000-person con having two floors of suites with large rooms, some much bigger than places I have lived, all hosting parties was mind-blowing.
Friendly and welcoming, going from room to room enjoying the hospitality and of course refreshments, I have yet to attend a convention where the party scene was better. Although I have heard amazing things about Norwescon and have loved great parties at both Arisia and Boskone.
Thursday night may be a quieter night, but it doesn't feel quiet, and there are a number of parties taking place. I end up helping a couple of them prepare, moving furniture around and so on.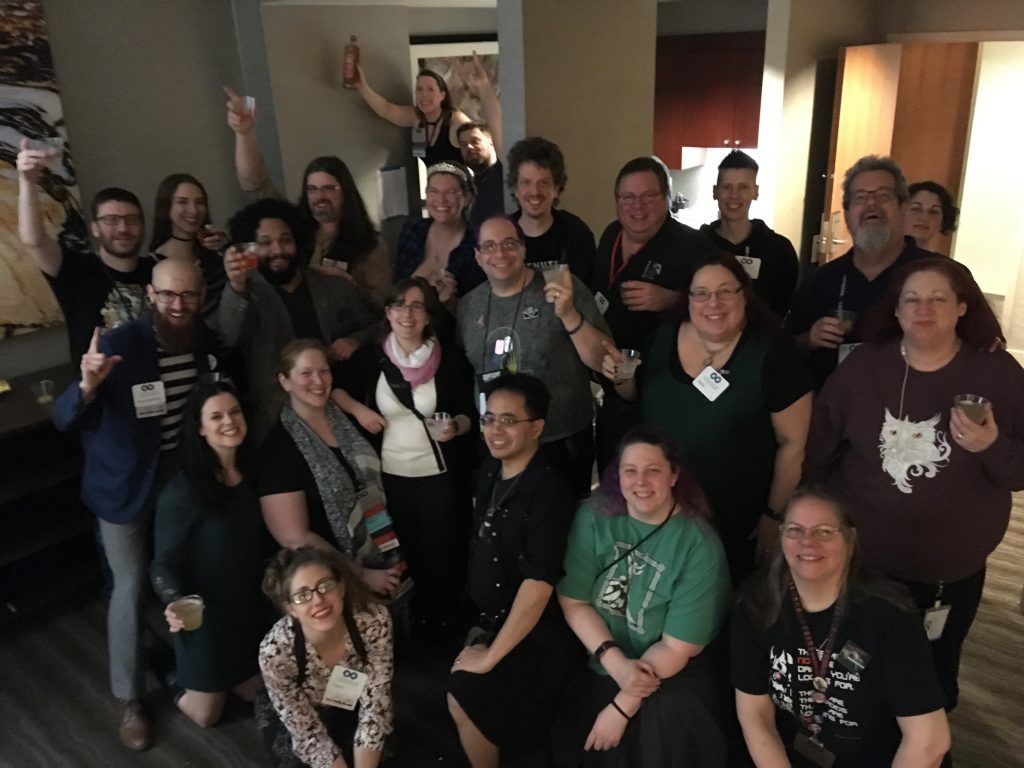 Tammys cocktails
Tammy Coxen is doing an amazing Tammy cocktail party with a series of drinks representing Worldcons and Worldcon bids.
Dublin 2019 is well represented here with a fresh take on the traditional whiskey and red lemonade. Tammy is serving the Whiskey with lemon juice, grenadine and club soda.
I have managed to bring some red lemonade from Europe, this uniquely Irish soft drink goes very well with Whiskey, so fans enjoy it, and we have some regular whiskeys, Bushmills, Red Bush, Powers to taste it with. I tell everyone it is the most popular way to have whiskey in Ireland, although I admit I read that online, but Red Lemonade is always available in Irish Pubs and in Dublin a Jammie and Red is very common drink.