Wine food Winery enology sparkling wine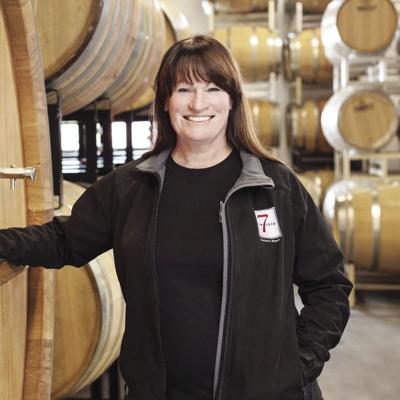 Mary McDermott is the winemaker at Township 7 Winery on the Naramata Bench, which has just launched the Seven Stars Sparkling Wine Club.
Contributed
What better way to celebrate a 20th anniversary than with bottles and bottles of sparkling wine?
Township 7 Winery on the Naramata Bench is marking two decades in business this weekend with parties today and Sunday, noon to 4 p.m., to launch its Seven Stars Sparkling Wine Club and a new tier of Provenance Series wines.
"It's fun to drink bubbles, so, of course, it's time there was a specialized wine club just for sparkling wines," said Township 7 winemaker Mary McDermott.
"I've heard that there may not be a lot to celebrate in 2020 with COVID and everything. But I guarantee if you pop open a bottle of sparkling, your spirits will brighten."
McDermott touts sparkling as not just a special-occasion drink, but an everyday sipper on its own or paired with cheese, breakfast, brunch, lunch and-or dinner.
The Seven Stars Club sees members receive six bottles of sparkling chosen by McDermott twice a year in May and September.
It's free to join at Township7.com.
You pay only for the wines at a 15% discount if you pick them up at the winery or with free delivery anywhere in Canada.
Right now there are four sparklers all with names in keeping with the celestial-theme of Seven Stars.
They are: 2016 Equinox Rose ($46) made of Pinot Noir, blanc de blanc Polaris ($36) made of Chardonnay, the copper-coloured Eclipse ($33) made of Chardonnay with a touch of red wine, and the new 2018 Vega made of Viognier.
All are made in the Champagne method with secondary fermentation in the bottle.
The first two wines launched in the Provenace Series are a 2018 Chardonnay ($22) and 2018 Merlot ($26).
Township 7's regular wine club is called Club Seven.
The winery was one of the first to start harvesting grapes last week with Chardonnay and Viogneir being picked for the sparkling wines.
The harvest for sparkling is early so the grapes come in with good acidity and lower sugars, two attributes that contribute to excellent sparkling wines.
The Okanagan 2020 grape harvest will continue with Sauvignon Blanc and Riesling picking starting next week and then wrap up in late October or early November with late-ripening red varietals like Cabernet Sauvignon.
Hester Creek does bubbly Italian style
Speaking of sparkling wine, Hester Creek Winery in Oliver has released its first bubbles.
Ti Amo 2019 ($20) is a fresh, light and fruity frizzante done in the Italian Prosecco style with bubbles forming during fermentation in big stainless-steel tanks before bottling.
Another nod to Italy is the name Ti Amo, which translated is "I love you."
Thus, the winery anticipates you'll love this sparkler, a blend of Pinot Gris, Gewurztraminer and Semillon.
Only a limited quantity of Ti Amo was made, so it's available only at the winery or online at HesterCreek.com.
Real Italian bubbly available in B.C.
In keeping with the sparkling theme, Marchesi de Barolo Moscato d'Asti ($29) is new for sale at B.C. government liquor stores.
The name Borolo is usually associated with big Italian reds.
But the region also grows the aromatic, white Moscato, which, in this case, is made into a fresh and sweet sparkler in the d'Asti-style.
You may not recognize this d'Asti as a sparkling wine on the shelf because it comes in a regular, dark wine bottle with a standard cork, not the bulbous cork encased by a little wire cage traditionally associated with bubbly.
Oliver will have an entire wine village
It's being billed as Canada's first wine village.
District Wine Village is the under-construction cluster of buildings just off Highway 97 in Oliver for 16 small wineries, cideries, distilleries and breweries.
The village is being built, funded and managed by Penticton-based Greyback Construction, which touts the concept as the low-capital way for artisan beverage makers to start and stay in business.
The drink makers can share the on-site production facilities and benefit from tourists and locals visiting to buy bottles, eat and drink at the restaurant and attend events in the amphitheatre.
Two buildings are operational for 2020 harvest and the first five buildings for wineries will be finished over the winter for spring 2021 occupancy.
Media, wine types and community leaders were given a sneak peek of the village this week.
Steve MacNaull is an Okanagan wine lover. Email: steve.macnaull@ok.bc.ca.
Tags
,
cheongsam
,
cheongsam