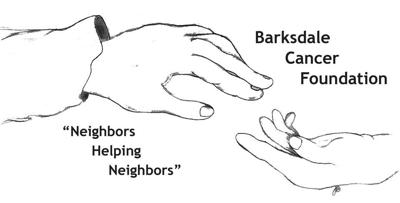 Photo from the Barksdale Cancer Foundation Facebook page.
Barksdale Cancer Foundation is busy finalizing plans for its third annual Miss Janie's Sit & Sip wine festival at the Gil-Har House on Patrick Henry Highway. The fundraiser, to benefit cancer patients in Charlotte County, will be held on Saturday, October 3, from noon to 6 p.m.
"We are cautiously optimistic about our event," says President Wendy Lankford. "We are blessed to live in a rural county, where the spread of the COVID virus has been minimal compared to other areas of the state. But we still have numerous safeguards in place for the festival."
The much-anticipated event will, of course, be different than in previous years. There will be three wineries participating – Three Sisters of Clarksville, Bright Meadows of Nathalie and County Way of Chase City. All three have been very popular at the event in years past.
A number of vendors have rented spaces this year, selling a variety of wares, from handbags and jewelry, to wood crafts and everything in between…handcrafted items of all types, flowers, baked goods, and a number of trademarked booths. Vendors will be spaced a distance apart to adhere to social distancing guidelines, and vendors and festival workers will wear masks and/or practice social distancing etiquette; in addition, all booths will be supplied with hand sanitizers and stations will be set up throughout the venue. Congregate areas will be cleaned throughout the day.
The Charlotte County Lions Club will again provide a variety of delicious food for the day's event. Of course, their proceeds always go to charitable organizations in the county.
New to this year's event will be the Tobacco Road Band from neighboring Mecklenburg County, which will provide musical entertainment for the day. A popular local DJ is tentatively scheduled to be on hand for the event as well.
The band plays a wide variety of musical genres, including Top 40, classic rock, beach music, country and bluegrass, etc. "We do it all," laughs band member Ronnie Newcomb of Clarksville, a Charlotte County native. "We look forward to seeing the folks again. It's been a long and stressful year. We hope people are ready to get out and enjoy a day in the great outdoors, and at the same time raise money for local cancer patients."
The wine fest is a 21 years and older event and ID will be required for admission. A variety of beers will be available for those who do not wish to sample the delicious array of wines offered. No children or strollers will be permitted, and only service animals will be admitted. No open bottles, weapons, coolers, picnic baskets, or backpacks will be allowed. Lawn chairs are encouraged.
New this year due to COVID-19, groups attending are asked to remain within their group. Anyone who is not feeling well is asked to remain at home for the health of themselves and the public. Other COVID safeguards will be in place throughout the day's event.
Tickets are $20 for tasting and $15 for non-tasting, in advance. Tasting tickets will be $25 at the gate. Tickets are available for purchase online at or from any board member. Additional information is available by calling Wendy Lankford at 434-470-1538 or by visiting the Facebook page.
,
mesothelioma
,
cheongsam