tasting white wine Wine Grape Winery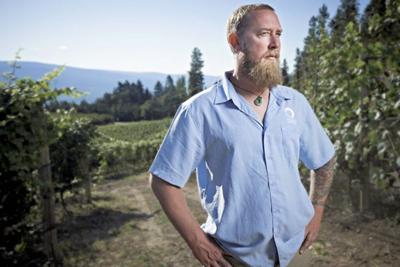 Okanagan Crush Pad winemaker Matt Dumayne crafted a diverse bunch of new release wines for the Summerland-based Haywire and Narrative labels.
Lionel Trudel
They have names such as Red Horses, Second Chapter, Sonora Desert, French Door and Lakeside.
They are the Okanagan's newest wineries and belong to the Oliver Osoyoos Winery Association, taking membership of the group to 44.
In all, B.C. now has 370 wineries, most of them in the Okanagan.
The statistics are a testament to the strength and rapid growth of the wine industry in the province.
Thirty-five years ago there were only 15 wineries in B.C.
Now, with 370 wineries, the industry is worth $2.8 billion annually.
The wineries get their grapes from 929 vineyards covering 10,260 acres in nine regions, Okanagan, Similkameen, Fraser Valley, Vancouver Island, Gulf Islands, Thompson, Shuswap, Lillooet and Kootenays.
Red Horses, owned and operated by three generations of the Fortin family, is the first winery right in the town of Oliver at 365 Zinfandel Ave.
While its address may be Zinfandel, the winery capitalizes on Oliver's heat and gravelly soils to make three big and bold Cabernet Sauvignons.
The winery also makes a Chardonnay and Merlot and two other wines with horse-inspired names, the Cross Breed blend of Merlot and Cabernet Sauvignon and Run Away Rose.
Second Chapter Wine Co. on Tinhorn Creek Road in Oliver is owned by John Pullen, previous co-proprietor of Church & State Winery in Oliver for 15 years.
Church & State was sold and Second Chapter is literally Pullen's second chapter in the Okanagan wine industry.
Sonora Desert Winery in Osoyoos is a venture of grape growers and brothers Paul and Herman Gill.
French Door is a family-owned winery on Oliver's Black Sage Bench.
And Lakeside Cellars is indeed beside Osoyoos Lake on the East Bench.
The Oliver Osoyoos Winery Association also wants you to know its Uncork the Sun series of podcasts with Moss Scheurkogel of The Vinstitute continues.
The first four episodes (creating a wine cellar, terroir, oak or no oak and viticulture) can be downloaded from OliverOsoyoos.com, iTunes or Spotify.
Scheurkogel also hosts virtual wine tastings on Facebook Live with the oak or no oak theme repeated Tuesday at 7 p.m., sparkling wines on June 23 at the same time and the softer side of reds on July 7.
The association has also posted the 360-degree video tour of Covert Farms Winery to its website.
Amazing winemaker
Winemaker Matt Dumayne can do it all.
The evidence is in the 12 new-release wines he crafted for Okanagan Crush Pad in Summerland under the Haywire and Narrative labels.
The dozen runs the gamut from white and red to rose and sparkling.
Dumayne is a Kiwi who worked in New Zealand, Australia, California and Nk'Mip on Osoyoos before landing at Okanagan Crush Pad in 2012.
Taste South Africa
Affordable, approachable and quality.
That enviable trifecta is being touted all of June as B.C. government liquor stores celebrate Wines of South Africa Month.
The COVID pandemic meant special tastings and events couldn't be arranged.
However, there's ample signage drawing attention to South African wines and tempting you to take home a bottle from the well-established Southern Hemisphere wine region.
You're also urged to flaunt your drinking on social media with the hashtags #SpectacularSouthAfrica and #DrinkChenin.
Chenin Blanc is a grape and wine originally from France, but South Africa has made it it' signature white wine.
Steve MacNaull is an Okanagan wine lover. Email: steve.macnaull@ok.bc.ca.
Tags
,
asmr8
,
asmr8