wine bar tasting sale catering enology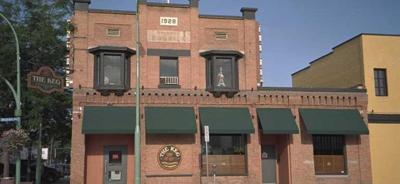 This 110-year-old brick building in downtown Kelowna, originally the home of the Kelowna Courier newspaper, could be repurposed along with an adjacent, equally old structure, into a massive new wine education and sales centre.
City of Kelowna
An old newspaper building in downtown Kelowna could be repurposed as a wine education centre with a bar, liquor sales, lounge, and rooftop patio.
City council will be asked Monday to approve ambitious redevelopment plans for two historic properties, at 1580 and 1570 Water Street.
Unique architectural fears of the two brick buildings, which date back to 1910, will be restored and are to feature prominently in the properties' new look.
"Historical photos from the city archives are being used to re-create the early appearance of the buildings," architect Randi Fox writes in the development application.
"The project is intended to be an innovative and exciting prototype, rethinking the traditional wine venue, while respecting, re-interpreting, and activating the form and character of the historic downtown," Fox writes.
One of the buildings was the original location of the Kelowna Courier newspaper, and was used by the business until it moved to new premises in 1957.
The other was built to house a Chinese restaurant. Although it has had a variety of owners over the past century, it has always been a restaurant.
Plans going to council show a total occupancy limit for the new project of 625 people. Distinct areas within the buildings will include a wine bar, interpretative centre and tasting room, lounge, education centre and lab, and rooftop patio.
Special permission from council is needed for the project to move forward, however, as the proposal is "inconsistent" with various city policies, municipal staff say.
These include a 500 person limit on liquor primary establishments, the designation being sought for the property; being within the specified 250 metre separation from other big drinking establishments; and having off-sales of liquor, something not normally allowed for large facilities.
But staff say most of these rules were designed to apply to traditional "nightclubs and bars where late-night alcohol consumption is the main focus of the venue".
By contrast, planners say, the proposal under consideration has several attractive and unique features, in addition to the historical preservation of the buildings, and the consumption of alcohol "is not the focus of the venue".
Tags
,
mesothelioma
,
asmr8