Wine work martin laprise Fresh Employment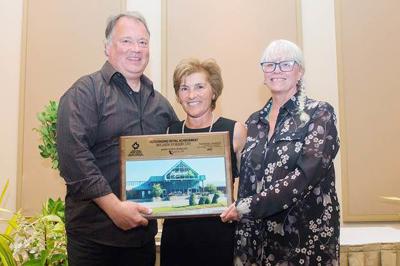 Maria Byland and the team at Bylands Garden Centre received the 2019 Garden Centre of the Year award from the Canadian Nursery Landscape Association.
Contributed
It's time for the Fall Okanagan Wine and some Westside wineries have special events.
Volcanic Hills Estate Winery offers Pedis and Pinot Sunday from noon to 4 p.m. in support of Mamas for Mamas. Guests will have the opportunity stop by and stomp grapes for a recommended $5 donation to Mamas for Mamas.
They can also book a mobile onsite pedicure for before or after they stomp by emailing the winery at info@volcanichillswinery.com.
There will also be an empty bin for donations to Mamas for Mamas. Their wish list includes size 4, 5 or 6 diapers, Pull-Ups, clothing, personal hygiene items such as shampoo and toothbrushes as well as bottles and sippy cups.
Wine under the stars
Join Rollingdale Winery for an evening of wine under the stars Sunday from 7 to 9 p.m. Volunteers from the Royal Astronomical Society will be on site with telescopes to host a star-gazing event.
Admission is free, but guests must make parking reservations by calling 250-769-9924 or emailing wineshop@rollingdale.ca. for a time between 7 and 8 p.m. or 8 and 9 p.m.
Rollingdale wine will be for sale by the glass and donations to the Royal Astronomical Society of Canada are appreciated.
This event is weather dependent.
Barrel blending
Mount Boucherie Estate Winery offers barrel blending seminars with the estate sommelier. Using components of the winery's 2017 Summit Red, guests can compete to become the blending champion, with a blind tasting to judge the final blends with a prize for the winner.
Sessions are available from 2 to 3:30 p.m. Oct. 6 or 13.
The $85 fee includes a bottle of 2016 Summit. For more information, call Zoe Harris at 250-769-8803 or email zoe@mtboucherie.com.
Bylands wins award
West Kelowna's Bylands Garden Centre was recently recognized as the 2019 Garden Centre of the Year by the Canadian Nursery Landscape Association at the 16th Annual National Awards of Landscape Excellence.
The National Awards of Landscape Excellence recognize Canadian companies that have actively participated in significantly raising the level of professionalism in the landscape industry.
Bylands was recognized for exceeding expectations for their significant contributions to the community and environment through special projects and store policies.
Bylands has hosted Santa's arrival by helicopter for the community for over 30 years, flying in Santa from the North Pole to visit with children. This year's event takes place Nov. 30.
WorkBC open house
WorkBC, the provincial government's access point to the job market, holds an open house Oct. 16 from 11 a.m. to 1 p.m. at its new work centre at 111 – 3011 Louie Dr..
Meet the new staff, enjoy refreshments and learn about WorkBC.
This is a free event, however, people are asked to register through Eventbrite.ca.
WorkBC offers free employment services,
including job search resources, employment
planning, skills assessment, training and work experience placement.
The West Kelowna WorkBC offers information sessions every second Tuesday at 10 a.m. with the next session set for Oct. 15. Get your free ticket at Eventbrite.ca.
Chef Instead taking 2020 bookings
Autumn has officially begun and Chef Martin Laprise at The Chef Instead is taking calls from brides getting married in the Okanagan in 2020.
"I provide a top quality experience cooking fresh food on site and sharing my charming personality and over 34 years of expertise with guests," said Laprise.
The Chef Instead celebrates its 15th year of business cooking throughout the Okanagan in 2020 and Laprise is looking to pay it forward.