event authors Books Four Montreal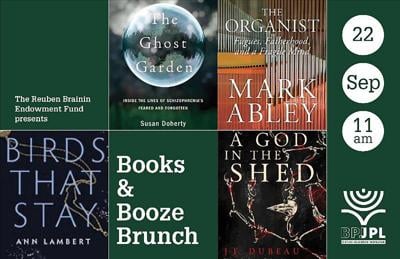 Photo: Jewish Public Library
Four Montreal authors in the spotlight at JPL's Books & Booze event Sept. 22
Sep 15, 2019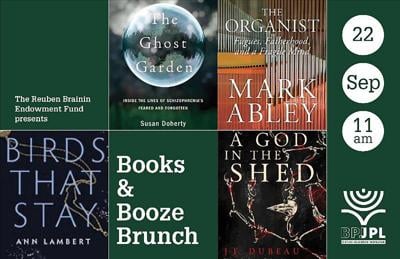 Photo: Jewish Public Library
The Jewish Public Library's Books & Booze series (formerly 'Reading Between the Wines') kicks off with a brunch with four Montreal authors discussing their writing method and the journey that brought their books to publication. The event takes place on Sunday September 22 from 11 am to 1 pm at the Jewish Public Library, 5151, ch. de la Côte-Ste-Catherine (metro station Côte-Ste-Catherine, bus 129). A light brunch will be served.
Featured panelists are Susan Doherty (Ghost Garden: Inside the lives of schizophrenia's feared and forgotten), Ann Lambert (The Birds That Stay), Mark Abley (The Organist: Fugues, Fatherhood, and a Fragile Mind) and JF Dubeau (A God in the Shed). This event is a collaboration with ARGO bookstore and includes a book sale and signing.
Presented by the Reuben Brainin Endowment Fund.
Tickets and info: 514-345-6416
$15 general admission (includes light brunch0; $10 JPL members (advance purchase) & students
Books & Booze is a JPL Next Generation series that invites authors to discuss relevant topics in a laid-back, intimate format. Previously featured speakers include local writers Ami Sands Brodoff, Su Sokol, Andrea Borod and Michelle Franklin, as well as international talent such as Gabrielle Zevin and Rachel Harris.
Established in 1914, the Jewish Public Library is a unique fusion of a neighbourhood library and an internationally recognized research institution, with
—Jewish Public Library
—
—AB
× Post a comment as
× Report
× Watch this discussion. Stop watching this discussion.
(0) comments
Welcome to the discussion.
Log In