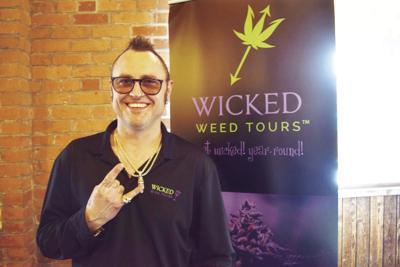 Nicholas Wilson launched his Wicked Weed Tours at Tuesday's Central Okanagan Tourism Industry Showcase & Hiring Fair at the Laurel Packinghouse.
Steve MacNaull
It was only a matter of time.
With recreational marijuana now legal, it was inevitable someone in Kelowna would create some sort of pot tourism.
Enter Nicholas Wilson and Wicked Weed Tours.
"We're Kelowna's premium cannabis tour starting this spring or summer, as soon as some dispensaries are open," said Wilson.
"We'll take people on a ride that de-stigmatizes marijuana. We'll visit a licensed producer and drop by two or three dispensaries where people can be educated, see, smell and touch, but can't consume due to regulations."
The pot grower hasn't yet been finalized and the dispensaries will depend on which locations meet all criteria to open first.
If the Wicked name sounds familiar, it's because Wilson also operates a business dedicated to another legal drug, Wicked Wine Tours.
Wilson has been busy taking cannabis tours in Colorado, Nevada, Oregon, Washington state and California to harvest ideas for the creation of his Wicked Weed Tours.
Wilson was promoting both tour businesses at Tuesday's Central Okanagan Tourism Industry Showcase & Hiring Fair at the Laurel Packinghouse in Kelowna.
"People are definitely curious," said Wilson. "They want to know what we're all about, and there's also been people interested in working with and for us."
While it was the fourth annual showcase, it was the first time a job fair was incorporated.
As a result, the event wasn't just a trade show open to tourism types, but also to the public to check out tourism offerings and apply for jobs.
"This is great," said Jerry Pokorny of Current Taxi.
"We're here to build awareness of the way we're revolutionizing the taxi industry with our fleet of seven all-electric, no-emissions Teslas. As well, we're recruiting ambassadors (what Current calls drivers). We're always on the lookout for exceptional ambassadors."
At the West Kelowna Visitors Centre booth, Darci Ritchey was garnering attention for her Victorian pioneer bustle gown costume.
"I'm here representing the best-side Westside," she said.
"The visitors centre is in the Westbank Museum, so there's a nice tie-in with this dress."
Ritchey, who is regularly the museum's co-ordinator, was joined by Salina Petschulat-Curtis of the visitors centre to spotlight West Kelowna's wineries, hiking trails, farm loop and self-guided studio tour.
More than 40 businesses and organizations had booths at the showcase, ranging from several wineries, hotels and spas to restaurants, tour operators and tourism agencies like Tourism Kelowna and the Thompson Okanagan Tourism Association.
,
wine
,
cheongsam