news local Business cambridge_deerfield
Nineteen months after opening at Galleria 217 in downtown Cambridge, Kindfolk Coffee Company is expanding its food menu, adding beer and wine and staying open later on Thursday nights.
Owner Chris Castrova said the new lunch options include a turkey club sandwich, a salmon wrap and power bowls, which are healthy option using grains like quinoa and "every vegetable we have in our kitchen." He said there is some crossover; for instance, the salmon wrap can be turned into a power bowl.
The shop has also added biali, a traditional Yiddish bread roll similar to a bagel topped with garlic, poppy seed and onion. It can be topped for breakfast with egg, parmesan cheese, olive oil, crushed red pepper flakes and arugula.
"It's a great breakfast option," he said.
Castrova said some kitchen upgrades, like a new dishwasher and a new convection oven, should increase the shop's efficiency and reduce wait times for customers.
And then there's the beer and wine, that Kindfolk rolled out for customers the last week of December. Castrova said he obtained a liquor license from the village of Cambridge earlier this year, but held off until now to begin selling. He said the offerings will include craft bottled beer and higher-end wines.
He said the move was intentional, seeking an expanded niche.
"I just wanted to be different than other options here," he said.
In tandem with the wine and beer sales, Castrova, who is Kindfolk's sole owner, plans to stay open until 9 p.m. every Thursday night in the month of January, as a test for whether to remain open later in the longer-term.
On some of those Thursday nights, the coffee shop will host fun events in an effort to lure in community members.
On Thursday night, Jan. 10 at 7 p.m., there will be a community trivia night. Registration is on-site and there will be food and drink specials.
The hope, Castrova said, is to offer a fun organized event such as a trivia contest every second Thursday of the month at 7 p.m.
The other three Thursday nights, he said, Kindfolk will offer a happy hour from 3-6 p.m. with food and drink specials.
Castrova said as business has remained strong in 2018, he has added staff.
"Things have been going great this past year and a half. We're figuring out what our customers want and need," he said. A "quick and healthy lunch option," seemed to top the wish lists of many customers, said.
Kindfolk is also stepping further into the digital age in January with the roll-out of a cell phone app, developed by the Madison firm Jump Coffee Company. It allows users to order ahead for food and drinks, and to pay online, eliminating wait times.
Karyn Saemann
Follow Karyn Saemann
Close Get email notifications on Karyn Saemann daily!
Your notification has been saved.
There was a problem saving your notification.
Whenever Karyn Saemann posts new content, you'll get an email delivered to your inbox with a link.
Email notifications are only sent once a day, and only if there are new matching items.
Follow Karyn Saemann
Close Followed notifications
Please log in to use this feature Log In
Don't have an account? Sign Up Today
× Post a comment as
× Report
× Watch this discussion. Stop watching this discussion.
(0) comments
Welcome to the discussion.
Log In
Keep it Clean. Please avoid obscene, vulgar, lewd, racist or sexually-oriented language.
PLEASE TURN OFF YOUR CAPS LOCK.
Don't Threaten. Threats of harming another person will not be tolerated.
Be Truthful. Don't knowingly lie about anyone or anything.
Be Nice. No racism, sexism or any sort of -ism that is degrading to another person.
Be Proactive. Use the 'Report' link on each comment to let us know of abusive posts.
Share with Us. We'd love to hear eyewitness accounts, the history behind an article.
Post a comment
Watch this discussion. Stop watching this discussion.
Click Here to View Ads!
Latest News
Classified Ads
C.N.A.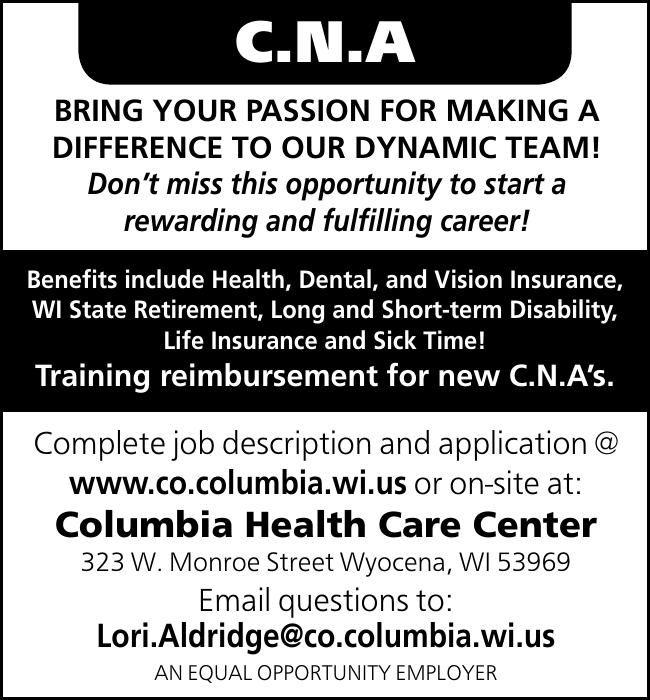 Executive Director