Wine food Strawberry juice grapefruit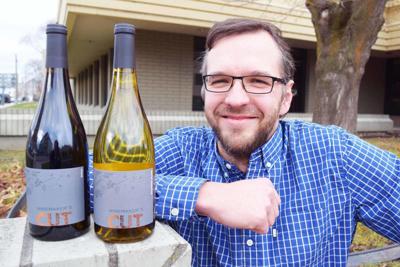 Michal Mosny of Winemaker's Cut in Oliver makes the palest and prettiest of the eight rose wines featured in today's column.
Steve MacNaull
Certainly, for Mother's Day, the woman who gave birth to you will appreciate a card, phone call, socially distant visit, chocolates and/or flowers.
But, what mom really wants is wine, especially rose.
Pink-hued vintages are ideal for toasting mom and all she's done for you.
Fresh and light roses are also perfect for spring and summer sipping.
And while pink celebrates mom's femininity, it's also a wine men can enjoy without rebuke.
Therefore, rose is the ultimate all-round wine and that reason is why it's become the darling of winemakers, sommeliers, importers, distributors, retailers and customers.
So, let's profile eight roses that will make mom (and you) happy.
These suggestions will also serve you well all spring and summer as you, naturally, have the inclination to reach for refreshing pink.
Palest and prettiest
The colour of rose wine is one of its most alluring qualities.
But not all roses are created equal.
It can range from barely pink and subtle blush to vibrant salmon and psychedelic neon.
The palest and prettiest of the eight pinks we're recommending today is Winemaker's Cut 2019 Rose ($26) from Oliver.
The barely-there seashell pink colour is achieved by gently pressing Cabernet Franc and Syrah grapes for the juice used to make the wine.
The juice, therefore, has virtually no contact with the red grape skins, minimizing colour transfer.
Some bolder roses start with hours or days of skin contact in what's called a cold soak.
Winemaker's Cut owner Michal Mosny's no-skin-contact method creates a wine with a light, tantalizing tint that's still big on flavour.
The classic rose aromas and flavours of strawberry and cream are there, but so is some captivating cherry and pink grapefruit.
Winemaker's Cut Rose is available at Save-On Foods in Penticton and Kelowna as well as Jak's Beer Wine Spirits in Penticton, both Urban liquor stores in Kelowna and Cask & Barrel in West Kelowna.
CedarCreek Platinum
Another pleasingly pale rose is CedarCreek 2019 Platinum Block 1 Pinot Noir Rose ($30) from Kelowna.
This coral-coloured beauty also has the rose hallmarks of strawberry and cream with a hint of watermelon.
CedarCreek's entry-level Estate Rose 2019 ($19) is also delicious.
The winery's Home Block restaurant isn't open for dine-in right now because of COVID-19 restrictions. But it is open for pick-up and has special Mother's Day brunch and dinner take-and-bake options.
The $60 brunch package feeds four and includes scones with honey butter, spinach-and-caramelized onion frittata, salad, ciabatta bread and rhubarb tart.
A mimosa drink kit of CedarCreek Home Block sparkling wine and orange juice can be added on for $35.
The dinner kit serves four for $160 and features burrata salad, roast halibut and prawns and dark-chocolate budino.
Call 250-980-4663 to place your order.
Duo from Intrigue
Patio, beach, barbecue, date night, hang out, pool party, game night, girls' night, fiesta, marriage proposal, wedding, travel, housewarming, good health, family and love.
All are listed on the etched labels as occasions and-or places you should break out I Do Sparkling Rose ($20) and 2019 Social Rose ($17) from Intrigue Wines in Lake Country.
While the packaging comes across as fun and tongue-in-cheek, wines inside the bottle are seriously good.
The I Do is a frizzante-style bubbly with uplifted aromas and flavours of apple and peach made from Riesling, Merlot and Gewurztraminer grapes.